...and get our FREE
7 part series
7 simple things you can do right now to take take 10 shots of your game.
Click here to get this amazing give away now and also pick up your FREE Demo of "From the ground up how to shoot in the 70'S".
Click Here to to get your FREE info.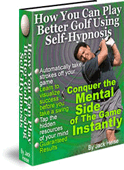 What You Eat Can Dramatically Improve Your Golf Game.


Mike Pedersen, CPT


Do you lose energy on the back nine? Have you gained a few pounds? Do you want to know the right way to eat to get the most out of your game? The food you consume is the answer.

Very few golfers realize the connection between healthy eating and a better golf game. Most golfers don't even know that their nutritional habits affect their performance.

If you expect to play your best, what you eat or don't eat is crucial. Food is fuel for your body, and just as a high performance car needs "premium" octane fuel, so does your body. Like many golfers, you may wonder about the standard recommendations for proper golf nutrition: "What are the best foods to eat on the course?" "What should I eat for breakfast the morning I play golf?" "How do I eat to lose weight?" "How much water should I drink during play?"

GOLF TIP: Knowing What to Eat Before Your Golf Game to Maintain Energy is One Key to a Great Golf Game

Most golfers don't even think twice what to eat before running out the door with no fuel in body for optimal golf performance. I can guarantee you that most successful golf athletes know exactly what to eat before their game. Do you want to know? Make sure you eat some sort of complex carbohydrate. Now what's that? That is the immediate energy source in your muscles that will help you maintain your energy for longer periods of time. A complex carbohydrate is something like a bowl of oatmeal, high fiber cereal, whole grains and even brown rice (if it's lunch-time before you play).

There are many myths proliferating about what to eat for optimal golf performance. Another crucial area of nutrition is hydration. How much water should you be drinking on the course? How about during a workout? This is vital information since water plays a huge role in helping you play your best golf. Don't take it lightly.

The golf tip I've given (above) about what to eat before a golf game is just one of the many results-producing strategies compiled into one revolutionary golf fitness program that I personally designed for golfers, and which I've trademarked Golf Trainer Power Performance Program™.

The program has helped thousands of golfers dramatically alter and enhance their performance on the course by improving their eating habits and overall fitness -- at a cost of only 26 cents a day.

Members of my Power Performance Program™ quickly and easily learn what they need to eat to improve their golf, to give them more energy and to lose body fat.

Imagine stepping up to that first tee and your playing partners haven't seen you for a while. You're now a leaner, more energetic golfer. They won't know what to think -- other than you'll probably take their money!

Everybody knows that nutrition without strength, flexibility and cardiovascular fitness will not allow a golfer to play to his full potential. The Golf Trainer Power Performance Program™ incorporates all components to help achieve optimal performance in golf.

Bottom line is, golfers that have taken the nutritional and fitness strategies I developed for the Power Performance Program™ have been able to accomplish in weeks what normally takes other golfers months -- or even years -- to accomplish.


" I have lost 20 lbs, taken 2 inches off my waistline and feel a helluva lot better. Perhaps the greatest effect of your program came at a recent dinner party when I was asked when I would reach 65, I loved it when I replied "10 years ago". At 26 cents a day, no one's being stung. Even if my game stays the same, the fitness effort will not be wasted. "

Don Hudson
dhudso2@attglobal.net

Golf-Trainer.com is the first and only membership golf fitness program on the Web that features the Power Performance Program™. Among its many benefits of membership, you'll receive a golf fitness program completely customized and personalized to your own needs, your flexibility level, your physical limitations, and swing aspirations. The program includes video demonstrations that you can view online. Want a better game? Sign up now!

In Focus

The ultimate training Glove, and it's legal to use during a game!

Click here to read more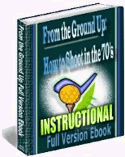 From The Ground Up: How To Shoot In The 70's